The city of Jaipur doesn't just boast of its heritage properties and monuments but colourful sky imbued in hues of kites. The festival of kites, Makar Sankranti is the reason for the painted sky. This auspicious day is considered pious for donation, charity and helping the needy as these practices are believed to bring prosperity and peace in one's life. People are subsequently involved in kite flying and feeding cows, birds and helping poor.
In Jaipur, the festival has an extravagant flavour. The preparation for the kite flying enthusiast starts months before the day. People buy kites, Manjha (glass wrapped thread), and sadda (thick white thread). And then starts the joy of flying kites. It's a community experience that brings families and people together. Everyone gets on their roofs and terraces to relish it. Flyers in the neighbourhood and surroundings engage their kites with each other where the manjha works as a weapon and one who uses it mindfully survives and dissects other's kite. And the glee that exudes from this triumph is celebrated through "Woh Kaate" and "Woh Maare".

International Kite Festival
To encash the occasion, several kite festivals are organized on the day in the city. Many brands take part in sponsoring these events. They offer big prize money to winners. People from different parts of the world come to participate in them. This year, the three-day kite festival will begin at Polo-Ground on January 14, Jaipur which will conclude on January 16 at Umaid Bhawan Palace, Jodhpur. The celebration will be held under the aegis of Rajasthan tourism department.

Segmentation
The festival is segregated in two parts; kite wars and friendly kite session. Both are significant in their own right.

Savour delicious food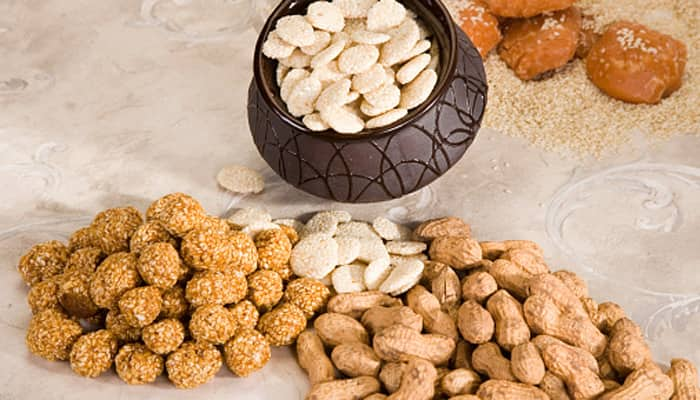 The local Rajasthani delicacies like Pakodi, Kachori, Ghevar, Phini, Gajar Ka Halwa, Till ke ladoo etc. are served to the participants which energise them to play the sport for the entire day. The aroma of delicious foods fills the environment with happiness.

Kites of different shapes and sizes
To draw limelight, kite makers bring kites in shapes and sizes that amaze everyone. There are dragon-shaped kites, kites with celebrities and politicians cut-out, snake-shaped kites, animals and birds shaped kites to name a few. It's a circus of a sort which is a sight of gusto.